About Diwa
When I came in to see Janet, I was experiencing breathing problems and chronic high stress. With acupuncture, herbal medicine, and cupping, I experienced great results. My breathing improved greatly, and I felt better overall and less stressed. I would
Read More
Janet T. Co:  L.Ac., MS, Dipl. OM, NBAO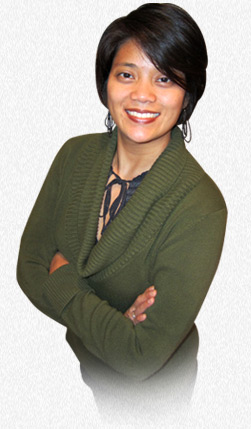 Janet has the passion and commitment to help you achieve your health goals. Janet is licensed by the State of California, nationally board certified in acupuncture and Chinese herbal medicine by NCCAOM, and the owner of Diwa. She holds a Master's degree in Traditional Chinese Medicine (TCM) from the Academy of Chinese Culture and Health Sciences. Additionally, she completed a board specialized orthopedic program under the National Board of Acupuncture Orthopedics held at Cedar Sinai Hospital and is also certified in NAET (Nambudripad's Allergy Elimination Techniques) to address food and environmental allergies.
Janet's interest in "health" began when she was 13 years old and evolved to Chinese medicine. She always believed "health" is broadly defined. Janet studied integrative biology, environmental health issues, ethnic studies, urban policy, community development and health. All of these factors influence and impact health in various ways.
Later, she combined these interests into a community health framework and has experience working in public health and policy settings as well as volunteered in Medical Missions to provide access to medical care in remote provinces of the Philippines.
Additionally, Janet holds a dual Bachelor's degree — BS in Integrative Biology and a BA in Ethnic Studies from the University of California at Berkeley and a Master's of Science degree in Urban Policy Analysis and Management from the New School of Social Research in New York.
Lastly, Janet loves the outdoors, dance, music, qi gong, and enjoys health and fitness activities – which serves as an outlet for her as she continues to maintain and strive for balance and harmony physically, emotionally, and spiritually.
Janet Co has a sincere interest in helping people achieve their health goals by treating each person individually and holistically. Each person is a unique individual and treatments through Chinese medicine are highly individualized. Through Chinese medicine, her hope is to help you discover and utilize the tools available to help you maintain balance and vitality within.